COMMUNITY CLEAN UP EVENT
2023 Stewart Park (9th Street & Maple)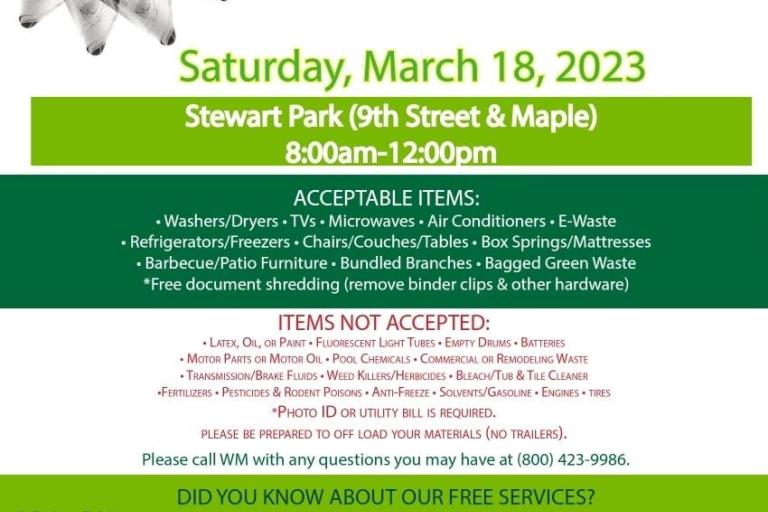 Event Details
COMMUNITY CLEAN UP EVENT
Saturday, March 18, 2023 Stewart Park (9th Street & Maple)
8:00am-12:00pm

ACCEPTABLE ITEMS:
•Washers/Dryers, TVs. Microwaves. Air Conditioners, E-Waste • Refrigerators/Freezers. Chairs/Couches/Tables Box Springs/Mattresses • Barbecue/Patio Furniture. Bundled Branches Bagged Green Waste
*Free document shredding (remove binder clips & other hardware)

ITEMS NOT ACCEPTED:
.LATEX, OIL, OR PAINT FLUORESCENT LIGHT TUBES EMPTY DRUMS BATTERIES. MOTOR PARTS OR MOTOR OIL POOL CHEMICALS COMMERCIAL OR REMODELING WASTE,  TRANSMISSION/BRAKE FLUIDS WEED KILLERS/HERBICIDES BLEACH/TUB & TILE CLEANER FERTILIZERS PESTICIDES & RODENT POISONS ANTI-FREEZE SOLVENTS/GASOLINE ENGINES. TIRES *PHOTO ID OR UTILITY BILL IS REQUIRED.
PLEASE BE PREPARED TO OFFLOAD YOUR MATERIALS (NO TRAILERS).
Please call WM with any questions you may have at (800) 423-9986.

DID YOU KNOW ABOUT OUR FREE SERVICES?
Residents may request a free bulky item pick up on their regular service day. The program allows residents to dispose of larger items that cannot fit into the regular trash cart. Bulky items include chairs, sofas, appliances, bed frames, mattresses, lawn furniture, etc. Call WM at (800) 423-9986.
Disposal of Used Motor Oil
WM offers free pick up of residentially generated used motor oil (maximum of two gallons per month). Please contact WM customer service at (800) 423-9986 at least 24 hours in advance of your regular collection day to schedule.
Sharps
As part of your collection program, residents may request a sharps container to safely dispose of needles through our mailback program. Beaumont residents receive one free container per calendar year, additional containers are available at a nominal cost. Call WM at (800) 423-9986.